PMS Cream, Menopause, and Osteoporosis
Premenstrual Menopausal solution for women - alternative to HRT returning hormone balance to a natural level
from
£27.99
RRP £55.98
- Save 50%
PMS Cream is the convenient and safe way to easily treat premenstrual syndrome (PMS), menopause, and osteoporosis.
Sadly, in the case of estrogen imbalance, doctors usually treat the symptoms rather then the ailment (i.e. Prozac for PMS depression, estrogen for menopausal symptoms and osteoporosis).
Attention deficit disorder can be related to hormone imbalance
PMS Wild Yam Cream- relief from hotflushes without H.R.T.
If, your experienceing any of the following symptoms: water retention, edema, fibrocystic breasts, breast swelling, mood swings of a premenstrual nature, loss of libido and sex drive, depression, heavy or irregular menstrual cycle, uterine fibroids, craving for sweets, weight gain, fat deposits around the hips or thighs; these are the signs and symptoms of (estrogen dominance), which can be helped 'naturally' by taking pms wild yam cream.
Pms wild yam cream works in a similiar way to natural progesterone cream and is the convenient and safe way to help restore hormonal balance naturally to relieve premenstrual syndrome (PMS), menopause, and osteoporosis by restoring your hormonal balance naturally. Most people (including many doctors) have only a basic understanding of how hormones interact within our bodies.
New medical research indicates that many afflictions that women accept as being "normal for women" could be due to progesterone deficiency leading to imbalances that can be easily and safely corrected with products like natural progesterone cream. This progesterone deficinecy buy welcomes you to the 21st Century!
The skin has a large capacity to absorb materials and the fat cells within the skin layers can transform only a small amount of the precurser hormone (called Diosgenin) in a given time period. It is therefore necessary to apply the product to a different area each day: in this way, more of the precurser hormone may be modified by the body into Progesterone. Try to avoid applying the cream to the same small area each day, because absorption can become affected and blocked with the desired effects will probably NOT be realized.
If you are experiencing:
PMS
Cramps
Migraines
Bloating
Breast Tenderness, breast fibrocysts
Difficulty Losing Weight
Lack of Energy
Depression and Mood Swings
Attention deficit disorder: A.D.D.
Fibroid Tumours
Endometriosis
Infertility aimproved sexual functioning
Foggy Thinking
Perimenopause, menopausal relief
Losing Height
Irregular bleeding and Amenorrhoea successfully normalising menstrual bleeding.
Hot flushes, hot flashes
Attention deficit disorder can also be attributed to a hormonal imbalance such as oestrogen dominance. You may be experiencing Hormonal Imbalance! that may be the underlying root cause of the above symptoms. And wild yam is used in A.D.D. hyperactivity disorder.
How Progesterone can help prevent hormone induced, unwanted fat and improve breast shape
Breast Shape- They might not get bigger, but progesterone might help them become fuller and rounder.
As far as the breasts are concerned, progesterone helps relieve tenderness around the breast tissue. Progesterone can help to increase the roundness and breast shape, for more fuller firmer breasts. This may help them get bigger in terms of bust size, with a more natural development, but progestogens usually helps your breasts mature and not end up with odd cylinder shaped breasts and.normal looking breasts (fuller, mature shape) is even more pertinent than size. PMS cream can therefore be used with Natural Push Up tablets for fuller bust enhancement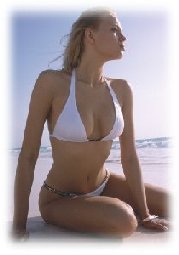 Body Shape - Most women accumulate excess pounds around the hips, thighs and tummy region.
Progesterone is an important component to intersperse fat and water retention that in most women accumulates around hips, thighs and tummy region, which collects as a result of the body being bombarded with excess oestrogen through dietary intake of food that can be pumped full of hormones and even from traces of oestrogen found in your water supply, that has gradual weight gain that needs progesterone to keep oestrogen in check to restore your body beautiful and streamline- You can help to restore the low progesterone imbalance with PMS Cream to help restore your hormone levels naturally to help treat stubborn fat and obesity with cellulite.
How can progesterone help Osteoporosis
Progesterone plays a major role in regulating the menstrual cycle. It enhances mood, helps protect against certain cancers, and reduces or stops bone loss (osteoporosis). Perhaps the most devastating side effect of menopause is loss of bone density. Hormonal changes after menopause accelerate bone loss in women so that by the age of 60, one in four women have osteoporosis severe enough to cause Dowger's Hump, bone pain, loss of height, spinal deformity, and an estimated 5 million spontaneous fractures in older Americans each year. Directions for Osteoporosis are the same as post menopause.
This forgotton hormone helps intersperse body fat and can be used in ,pms,acne and cellulite treatments
Progesterone is a hormone that helps to balance estrogen, progesterone levels increase during a womens monthly cycle and are essential during ovulation, and in trying to get pregnant. In women who suffer from pms progesterone levels are usually found to be too low.
Why P.M.S. Wild Yam Cream?
Progesterone through wild yam cream can have a positive effect on our hearts, blood vessels, in fact the brain and our nerves, together with estrogen levels. The influence of progesterone helps to manage fertility, therefore with any decline we may experiencecan, vaginal dryness, hot flushes or flashes, insomnia anxiety, low libido and sexual energy.. Mexican Wild Yam Root: This great root is an excellent source of beta-carotene and diosgenin. These compounds support breast development and are even used to treat osteoporosis. The progesterone like compounds are both molecularly and chemically identical to Wild Yam cream which has a locskin.alised reaction when it penetrates the skin. Studies seem to indicate that. As far as researchers know, non-synthetic progesterone (from wild yam cream) do not have side-effects and therefore remain far more desirable.
Mexican Wild Yam Cream
Suggested use: Massage 1/8th teaspoon of cream into the chosen area, morning and evening (or as your health professional advises).
See 'more information' below for details
Application:
1/8 tsp equals19mg. Massage 1/8 teaspoon of cream into the chosen area, morning and evening.
It is suggested to apply P.M.S. Wild Yam Cream to these sites:
1. Tissue on the underside of upper arms (both sides)
2. The lower neck area
3. The breasts
4. The tummy 5. The buttocks
6. The back of the thighs
7. The inside of the thighs
Begin at the top of the body (site 1) and continue downward on the body, choosing a different site for each day. Once the lower-most site on the body is reached (site 7), begin the following day at the upper-most site, repeating the cycle again. Rub the lotion thoroughly into the body's tissues until it is completely absorbed.
Ingredients: Purified Water, Stearic Acid, d-alpha Tocopherol (Vitamin E), Natural Glycerine, Avocado Oil, Mexican Wild Yam, Aloe Vera Oil, Rosemary Extract, Vitamin A Palmitate, Carrot Oil, Lemon Grass Oil.
1 tube of PMS Wild Yam Cream provides two months' supply
Suggested Use:
Applications Per Container -96- Application Size 1/8 tsp 1/8 tsp equals. 19mg. Massage 1/8 teaspoon of cream into the chosen area, morning and evening . Post Menopause Osteoporosis Calendar Day 1-7 do not use.
Peri Menopausal Menopause.
Period Starts Day 1-7 do not use.
PMS Day 1 Period Starts. Day 12 (Ovulation) Day 1-12 do not use.
Post Menopause Osteoporosis
Calendar Day 1 -7 do not use.
Peri Menopausal Menopause.
Period Starts Day 1-7 Do not use
PMS
Day 1 Period Starts. Day 12
(Ovulation) Day 1 -12 Do not use.
May also be applied to the outer vaginal area (can be used with 'Simplee Wonderful' Vaginal Moisturising Gel).

'Mexican Wild Yam Cream' can also be used to enhance the results with MenoCool®