Spirulina Superfood Tablets
A nutrient-rich blue-green algae: Spirulina Superfood contains life-enhancing vitamins, minerals, antioxidants and phytonutrients
from
£7.99
RRP £9.75
- Save 18%
Chlorella can play an essential part of your natural, diet to boost metabolism and general detoxification
Research suggests spirulina is a powerful cancer fighting food taken daily can fortify your immune system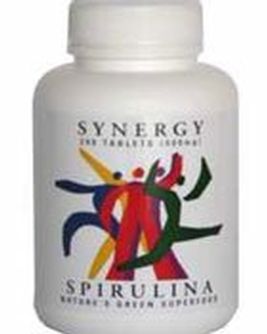 Body & Mind Shop Spirulina Superfood is the world's only spring water grown spirulina sourced from an environmentally protected natural mountain spring on a sub-tropical island in the Pacific Ocean. Hence, it meets the rigorous requirements of European organic certification and is your assurance of real quality, purity and potency.

Our Spirulina Superfood contains over 100 easily absorbed, life-enhancing vitamins, minerals, antioxidants and phytonutrients making it an ideal food supplement. Just one daily 3 gram serving is equivalent to 3 large servings of vegetables and costs as little as 21 pence per day. This tablet is form is easily to swallow, Spirulina which is free of tabletting fillers, binding agents.

A nutrient-rich blue-green algae, Spirulina is a quantum leap beyond ordinary nutritional supplements as it contains the most complete source of nutrients found in any single food.

Suggested use:
Begin with: 2-4 tablets a day for seven days..
Better taken with or following meals with at least 1/2 -1 cup fluid.
Chlorella Organic 1000 tablets from Synergy
See New must buy Special Offer £59.99