Bright Eye Drops For Glaucoma
Ethos Bright eyes: Imagine an eye drop for the treatment of glaucoma
Will also help with dry / wet eyes no need to use lots of different eye drops
For Eyes that get sore dry itchy and irritated from spending too many hours on a computer or road pollution
Eyedrops that melt a way cataracts and relax tired eyes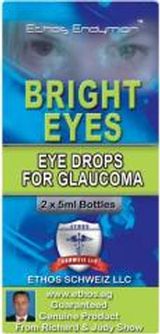 Ethos Bright eyes. Imagine an eye drop for the treatment of glaucoma.
Bright eyes eye drops can be especially beneficial if you spend a lot of time in front of the computer screen or if you drive a lot at night, because they help to sooth tiredness and soreness of the eyes. For rapid relief you can apply one or two drops when you feel discomfort. Leave 30 seconds or more between drops ot allow for absorption.
Ingredients:
N- Acetyl-Carnosine (NAC) - 1.0% (a super-antioxidant)
Glycerine (lubricant) - (1.0)%
Hydroxypropylmethylcellulose sodium (lubricant) - 0.15%
Sterile water (opthalmic grade isotonic solution, pH 6.3 to 6.5)
Buffered with boric acid, citric acid, potassium bicarbonate and a preservative, purified benzyl alcohol
Bright eyes eye drops for glaucoma can be used in one or both eyes to help reduce the fluid pressure which can cause damage and loss of vision.
Regular eye tests are important because glaucoma and increased pressure of the fluid inside the eye and can be detected and monitored by undergoing regular eye examinations, early detection and treatment with eye drops for glaucoma can help to preserve your vision.
Bright eyes drops. Each box contains 2 x 5ml bottles
Directions
Apply one drop in each eye, five to six drops in each affected eye every day. or at least three times every day. Those with any kind of eye problems i.e. Glaucoma etc., should apply one drop of eye drops for glaucoma several times a day or every two hours whenever possible, in each affected eye for maximum benefit. Although when treating only one eye, it would be advisable to apply one or two drops per day in the other eye to maintain good eye health in that eye also.
For serious problems, the product must be applied regularly for several months or more; however, it has been proven that regular, daily frequent use can speed up the healing process. Once an improvement has been felt, the dose can be reduced to a maintenance dose of one drop in each eye, once or twice daily.
Eye drops for Glaucoma are safe to use by both soft and hard contact lens wearers. The contact lenses should first be removed though, before applying the drops and can then be put back in again after allowing at least one minute for the drops to be absorbed into the eye.
Top Tip
When applying eye drops for glaucoma, lean head back and look up. Place one drop at a time, in the middle of the eye and gently close the eye. Do not blink or re-open the eye for 60 seconds. Closing the eye allows each drop to be absorbed into the eye tissue. Blinking, even once or twice, may pump some of the solution out.
Only 20 % of patients don't report a significant improvement within 30 days.

Contact lenses should be removed prior to inserting the drops.
Traynor Glasses featured see- under our family health section provide a wide range of training glasses which help to build up flexibilty and support your eyes.

Also recommend Ethos Endymion Powder (100% Pure L-Carnosine) which can be taken safely with Glaucoma Eyedrops to enhance eye treatment. Ethos L-Carnosine can also be taken as a supplement for general health.
Ethos Natural Health Endymion L-Carnosine is 100% Safe & 100% Hypoallergenic
Eye specialists have been impressed with improvements confirmed in glaucoma cases along with periphery vision usually unknown with glaucoma sufferers.
IMPORTANT: There are restrictions on the sale of this product in the UK. Please contact us for more details on: 01271378883