Ethos Bright Eye Drops for AMD
Ethos Bright NAC Eye Drops for Age-Related Macular Degeneration (AMD)
Superior Formula the best money can buy
Ethos Bright Eyes eye drops are safe to use alongside any other prescribed medication
Eye drops that help repair damage in AMD
The only product of its kind in the world that is proved scientifically to rejuvenate cells and repair damage at a cellular level.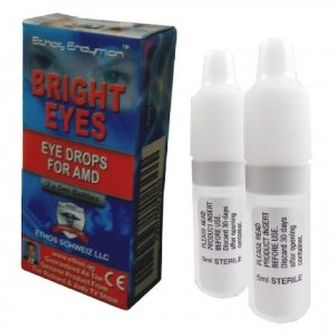 Bright eyes eye drops can be especially beneficial if you spend a lot of time in front of the computer screen or if you drive a lot at night, because they help to sooth tiredness and soreness of the eyes. For rapid relief you can apply one or two drops when you feel discomfort. Leave 30 seconds or more between drops ot allow for absorption.
Ingredients:
N- Acetyl-Carnosine (NAC) - 1.0% (a super-antioxidant)
Glycerine (lubricant) - (1.0)%
Hydroxypropylmethylcellulose sodium (lubricant) - 0.15%
Sterile water (opthalmic grade isotonic solution, pH 6.3 to 6.5)
Buffered with boric acid, citric acid, potassium bicarbonate and a preservative, purified benzyl alcohol
What is Age Related Macular Degeneration (AMD) ?
Ethos Bright Eyes Eye Drops can be used for (AMD). Bright eyes eye drops help repair damage in age related macular degeneration, with two million Britains over the age of sixty or even younger. It is the most common cause of poor sight among people but rarely leads to 100% complete loss of sight, most sufferers will have severeley restricted vision.
Bright eyes eye drops can be used for Macular degeneration, which is a condition that destroys the macular causing the loss of central, and detailed vision and can even be used by pet owners for nature cure for their cataracts but in the treatment of dogs.
You can use Ethos Bright Eye Drops safely alongside any other prescribed medication; just leave at least a thirty - minute interval between applying different drops. Zeaxanthin and Lutein, helps to restore the macular pigment density in the eye that protects the macular from damage.

Ethos bright eye drops can be administered inside the eye, where it can then go to work at a cellular level to start repairing the damage to the macular. Tip; find out about our selective range of Trayner Pinhole Glasses under our family health section for focusing at different distances.
Useful guidelines

The suggested dose for Ethos eye drops for AMD is to apply a drop per eye, a minimum of three times a day. However, if you suffer with cataracts you should be prepared to increase dosage dose to one drop as much as needed, every 2 hours in both effected eyes, for maximum affect. Just, because you might be treating one eye, we also recomend that you put 1 -2 drops daily in the other.
For the healing process to be accelerated the Ethos Bright Eye Drops for AMD then once a significant improvement has been shown, then the dose can be lowered to dose aied at maintenance for each eye, of one drop once or twice each day.
Ethos Bright Eyes for AMD drops are safe to use by both soft and hard contact lens wearers. The contact lenses should first be removed though, before applying the drops and can then be put back in again after allowing at least one minute for the drops to be absorbed into the eye.
Tip: Look up as much as possible with your head lent back. Aim to put one drop each time, in the center of the eye and gently close the eye, trying not to blink re-opening your eyes, allowing one minute for each drop to be absorbed into the eye tissue.To avoid pumping solution out avoid blinking.
IMPORTANT: There are restrictions on the sale eye drops for AMD in the UK. Please contact us for more details on: 01271 378883
We Also Recommend
Trayner Pinhole Glasses to help with a natural vision improvement Pinhole Glasses can...
L Carnosine can also be known as l- carnosine powder, ethos endymion, ethos endymion powder. The actual product is...