Jamu Herbal Stick Vaginal Soap
Authentic Jamu Herbal Stick Vaginal Soap for relief from vaginal odour, irritation and discomfort - and for maximum sexual pleasure
Very easy to use..now all my friends are using this stick..Love the buzz
No more smelly odour...feels good.. Louise..NY
Authentic Jamu Herbal Sticks are the most rapid-acting medicinal herbs from the Island of Madura
Do you want a heightened sexual sensation?
WHY WAIT 12-15 DAY'S OR LONGER FOR DELIVERY TO (UK) WE DELIVER WITHIN DAY'S, Europe, Rest of the World 5-12 working day's
NO UNEXPECTED CHARGES FROM CUSTOM'S AS ITS UNCLUDED WITHIN OUR PRICES.
Shipped- internationally signed and tracked (globally), and we ship second signed and tracked within the (uk).
Works wonders for women of all ages, who have insufficient muscle tone or exercise strenuously.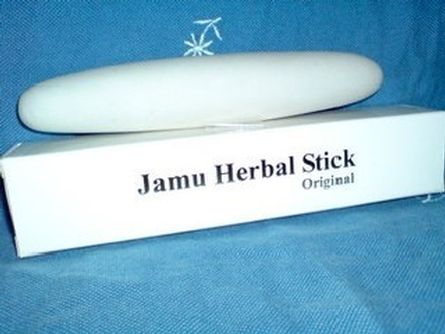 Currently out of stock
Ladies feel better toned, super tight and

irresistible again. Irresistable results can be achieved within half an hour.

Jamu Herbal Stick the vaginal soap that brings the sensation back, so you actually feel your body reacting.

Jamu Herbal stick a magical cleansing tightening wand that removes vaginal odour increasing vaginal tone for intense pleasure rushing through your body by gently releasing herbal astringents

which gently stimulate contraction of body tissues.

If, you suffer from loose vaginal and insensitivety syndrome, then this magical herbal stick and vaginal soap with it's gentle safe

tightening & toning effect, could be the solution for relief from vaginal odour, irritation and discomfort as well as achieving a tight and better toned vagina

.
Tribulus terrestris has a long history of boosting womens libido as well as men..
Recent studies indicate Tribulus enhances mood and sexual desire and protects the female urinary tract.
That's why we have decided to combine Jamu Herbal Stick with the Benefits of Tribulus in a Special Offer.
What are you doing about odour, white vaginal discharge, soreness and itchiness below?
The healthy normal vaginal fluid doesn't have an unpleasant odor, and the vagina is uniquely designed for having a healthy enjoyable sex life aswell as child birth: So why not try the pleasure enhancing experience that Jamu herbal stick vaginal soap has to offer, which has been used by women over the centuries and uniquely designed shape to deliver traditional herbs to encourage a healthy sex life or if you suffer witwant to try naturally to clear any unwanted fishy smell, yeast infection, which may include changes to color, soreness,and a rash.
In the modern age of western medicine we automatically, reach for anti biotics or harsh chemical solutions the side effects of which are many and can lead to thrush and other unpleasant side effects. In the East a more traditional Indonesian solution that the ladies have been able to rely on is Jamu Herbal Stick
The herbal essence of the Jamu Herbal Stick, Vaginal Soap when introduced and enclosed by the vagina, is instantly absorbed by the skin in the vagina, encouraging, motivating, exciting and restoring hormonal balance and strengthening the vaginal muscles. This enhances sexual sensations by the toned walls of the vagina tightening and clenching their male partner. This sensation once found can be controlled to restore a more youthful and younger vitality during intercourse with heightened sensations. The restoration of better vaginal tone, helps you demonstrate an intimate closeness and new found confidence and a more tightened virginal sensation with your partner.
IMPORTANT As well as tightening and toning don't forget to moisturise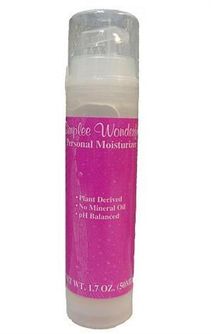 This pure vaginal gel has been procured by the Body & Mind Shop for women who suffer with vaginal irritation, itching, dryness and painful intercourse! The big plus of this formula using all natural ingredients and therefore posing any risk with women trying to limit their exposure to estrogen dominance. This gel help is not appropriate for hot flashes see Menocool under womens health usual relief from symptoms within 7 days. Vaginal Moistering gel does not stain, is odorless and greaseless, and contains no mineral oil and synthetic ingredients.
Vaginal Moisturizing Gel works for dryness and painful intercourse
Vaginal dryness can easily be relieved with the regular use of Simplee Wonderful Gel
from £15.98
The truly amazing simplee wonderful vaginal lubricant
This gel is brilliant for women who suffer in silence with vaginal irritation, dryness, and painful intercourse!
See Special Offer combining Vaginal Moisturizing Gel £15.98
with Jamu Herbal stick £35.98 saving £3.98
Its easy to lose vaginal tone and accompanying lack of sensation in connective tissue that support the vaginal muscles
Naturally, most mothers with children or through sexual intercourse develop vaginal laxity or lack vaginal tone, more commonly known as 'loose vagina syndrome'. We recomend using Jamu Herbal Stick and Kegel exercises for extra combined toning effect.
Authentic Jamu Herbal Sticks are the most rapid-acting herbs for women from the Island of Madura, this well kept secret based on traditional herbs especially formulated over hundreds of years for ladies who wish to develop their full vaginal tone. The unique blend of these wonderful herbal sticks are made from traditional purest pharmaceutical quality herbs found only on Madura Island.

Benefits of Jamu Herbal Stick Vaginal Soap:
Extra vaginal sensation during love making to intensify mutual excitement, which can lead to multiple orgasm.
Can eliminate vaginal 'white discharge' (leucorrhoea) and banish vaginal odour.
Can reduce and relieve vagina irritation and discomfort.
Helps to reduce excessive liquid discharge substance in the vagina and provide maximum sexual pleasure for both participants.
Directions for Use:
The cleaning of your hands and vagina before insertion is important.
Do remember to unwrap the Jamu Stick before its first used, then rinse the stick inserting it for 15 seconds.
Don't get distracted remember to take it out.
FIRST TIME USER: Insert it 'dry' for 15 seconds only; then insert again following directions for the REGULAR USE.
REGULARS USE: Every 'Three to four day's 'Relax slowly insert (5-6 cm / two and half to three inches) deep into the vagina, allowing to to remain one or two minutes before taking it out, although the length of time inserted may vary for each individual (never leave it in the vagina for more than two minutes).
Take care to wash both the Jamu Herbal Stick and the Vagina with lukewarm water after each use for 10 seconds and then dry it with a towel before storing it in a cool place avoiding direct sunlight.
Following several applications, an individual may decide her best timing and frequency.
Daily use can be increased up to three to four times if you have a white and excessive discharge, unpleasant odor and itches.
Stubborn vaginal discharge and odour, the process can be done every 3 days or a week and to allow up to one month to clear..
Tampons cannot be used, when using the Jamu Herbal stick.
NOTE: This original Jamu Herbal Stick is pharmaceutical grade made from quality Indonesian herbs only found on Island of Madura.
Jamu herbs cleanse the vagina with regular use, however some white discharge may occur during the process - a very common Jamu effect with many symptoms disappearing after several uses.
Ideally, with this fresh herbal formula we recomend the herbal stick to be used at its best within 6 months.
Avoid use during menstruation or during pregnancy..
The Jamu Stick isnot ot be inserted into urethra.
Don't use the Jamu Stick if you have a vaginal infection, disease or pain.
To prevent overdrying the vagina, there's no need to use every day as the Jamu Stick works amazingly well using every two or three days.
Avoid using a tampon while using the Jamu Stick.
Avoid using the Jamu Stick if you have a sexually transmitted disease (STD).
By doing kegel exercises while using the Jamu Stick will increase and help you achieve even tighter results.
IMPORTANT: These herb sticks should NOT be taken orally..
Storage: Rinse under running water and dry vertically,, wrapped in a clean cloth and keep our of sunlight and ideally store somewhere with plenty of air.
To enhance sexual stimulation
Tip: To help you achieve a heightened sexual sensation more easily from a tightened vagina experience with your partner, try using Jamu Herbal Stick one hour before sexual intercourse and leave it in for one minute to achieve maximum results.
Be aware
Traditional Jamu Sticks are White in Colour NOT Black or Brown
Original Jamu Sticks come in White Coloured Box
Genuine Jamu Sticks have ENGLISH manual
Real Jamu Sticks are less likely to break easily
Watch out for fakes with Chinese / Mandarin text on the box or with directions.
The Jamu Herbal Stick Vaginal Soap is accommodating in it's cigar like shape up to 12-centimeter in length, though Japan's top-selling weekly magazine compares it's feel good sensation to a vibrator. This magical buzz some ladies report once the stick is in place and gently rotated is supposed to be held firmly against the vaginal wall for at least 15 seconds, which conveniently allows the herbs sufficient time to be delivered and absorbed into the body to tone up the connective tissues that in turn support the vaginal muscles.

Japanese women who've used the sexy soap are more than happy with its cleansing and toning effects; together with reduced symptoms of irritable bowel and improved circulation.

According to the mass media attention this product has achieved in Japan the Tokyo daily Shukan Post "a 36 year old house wife who used Jamu Herbal Stick Vaginal Soap without telling her hubby who was shocked by my new toned sensation," it's been like we've become honeymooners all over again."

Women even as young as 21 using Jamu Herbal Stick in Japan are reported to be happier.

"Quite frankly speaking, sex with my boyfriend had been a little unsatisfying. But, after I started using this herbal stick soap, the pleasure heightened to a much higher level and thats really satisfying to have a new found confidence within and a much closer feeling to my boyfriend than ever before.
Avoid overdrying:
Jamu Herbal Stick & Colloidal Silver Spray Natural 'Douche Solution'.
Colloidal Silver
For immediate relief: dilute colloidal silver spray in water and apply topically to the vaginal area. The usual measure for a natural douche is mixing half to one teaspoonful of colloidal silver spray, using a glass 250ml of tepid pure water, because of its soothing natural anti-fungal effect to the area.
Actually, don't over do it as there is no need to use Jamu Herbal Stick everyday as it can overdry your vagina, every 2-3 days, for most of our customer's works well, but continue with Kegal exercise for toning, after 2-3 days you can use Body & Mind Shop Colloidal Silver Spray as part of a natural drug free, home douche.
See below to find out more on Colloidal Silver Spray under: Products 'We Also Recomend'.