MenoCool / Menopause Relief MenoDuo
A natural herbal relief for infertility, menopause, PMS, sexual dysfunction and menstrual disorders
from
£24.99
RRP £29.00
- Save 13%
Don't confuse with cheaper alternative blends
Menopausal symptoms, hot flushes and night sweats, menopause relief without the need for HRT.
Dutch study of the use of MA DenoCool showed that over 90% of women taking part saw a definite relief from symptoms within 7-10 days.
MenoDuo An exciting New combination of Menocool and Phase 2 Vitamins for healthier, skin, hair, nails and bones.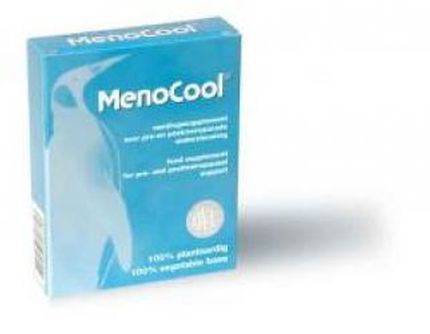 MenoCool o

riginal formula is a natural herbal relief for a range of disorders.
Why buy Menocool through Body & Mind Shop using the original formula?
Body & Mind Shop continues to supply you with 'Menoduo' which is (Menocool the original formula combined with Phase 2 melting tablets) this amazing duo pack made with Buckwheat, Barley, Wheat, Rye, Fibres Maize, Black oats; A combination of 3 types of the genus Humulus lupulus (Hops); not only remains the market leader and best value for money. Inferior products using Black Cohosh have to be issued with a list of various Balch cohosh side effects, cautions and likely contraindications.
Here are some of the many possible side effects of taking black cohosh
Important points to remember and complaints:
Gastrointestinal

, headache

, legs feeling heavy.

Breast pain,vaginal bleeding,

Irritation of the mucous membrane and gastrointestinal tract, aswell as reflux.

Because of tannin content in black cohosh. Not to be taken if you are allergic to black cohosh.

Remember its not suitable during breast feeding or pregnancy or by young children.

It is further recomended that if you have any concerns before taking products containing black cohosh, please discuss with your medical herbalist or GP.
Unfortunately, all black cohosh side effects are not known, black cohosh can hopefully be safe when taking for short time like up to a year. However, you should stop using this product if you show signs of liver harming problems, which can be as follows:
Loss of appetite, nausea, pain in upper stomach
Feeling tired feeling, itching
Clay colored stools
Dark urine
Jaundice indicated by yellowing of skin and the eyes.
Menopause relief
"Many women in the UK using the MenoCool original formula from Body & Mind Shop regularly since it was introduced over 10 years ago. They claim that their menopausal symptoms were relieved within 28 days and many have continued to order MenoCool for more than 8 years. And, if it did not relieve hot flushes and night sweats who would continue to order it?"
Important Changes: Menocool to MenoDuo
If, you buy direct from Body & Mind Shop "B&M's MenoDuo - the original MenoCool now complete with an essential vitamin Phase 2 which gives additional support and balance when taking Menocool. Phase 2 vitamin melting tablets is a supplement with additional isoflavones to protect your bones, improve condition of your skin, end brittle ridged nails and give more body to your hair and can even stop thinning hair and prevent hair loss. The original MenoCool does not contain questionable ingredients like Black Cohosh".

MenoCool is a food supplement, rich in DVE hops, created to relieve the typical menopausal symptoms > hot flushes and night sweats > without the need for HRT. 1 Pack contains 60 tablets

While MenoCool is new, the ingredients are not. Hops, wheat, malt, oats and barley have become a very important part of our staple nutritional diet introduced over many centuries..

Directions: Take 2 tablets per day, until symptoms subside, then take 1 tablet per day

Don't give up - try this product and see and feel the results for yourself! "

For restoring naturally hormone balance Menocool can be combined with 'Body & Mind Shop PMS cream'.
MenoCool, assists in menopause relief and menopausal transition, enabling a woman's body and mind to be in a state of health or 'balance'. Menopausal health problems represent imbalances in the body which have been "unmasked" by the process of ageing and the added stress of a shift in hormones
Nutritional Benefits: Menopause relief, Hot flushes, Night sweats

MenoCool is a food supplement, rich in DVE hops, created to relieve the typical menopausal symptoms > hot flushes and night sweats .



MenoCool contains, per tablet:
Buckwheat, Barley, Wheat, Rye, Fibres Maize, Black oats; A combination of 3 types of the genus Humulus lupulus (Hops) with a relatively high content of Prenyl flavonoid 8- Prenyl naringenin (known as Hopeine) and Xanthohumol, a natural Isoflavone complex with Genisteine and Daidzeine..
New: Body & Mind Shop MenoDuo Support
Introducing the original Mencool formula only using organic quality ingredients in a whole new way for relief of the menopause symptoms with winning duo combination of Menocool using another Phase 2 Vitamin supplements.
Why don't you Save £13.63 with buying Menodual than buying each product individually.
Saving £13.63 in (reference to Phase 2 Melting tablets used in formulation: Herbal Hair Loss & Thinning Hair Formula),
See below under products: 'We Also Recommend'.
Phase 2 melting tablets are super easy to digest, providing you with the nutrition support for nails , bones and skin throughout the menopause.
Living in the modern age its often difficult to source enough fresh organic vegetables or take in enough sunshine to absorb enough sunshine to meet the bodies essential needs of Vitamin D3 However, Body & Mind Shop Menoduo with Menocool original doesn't contain black cohosh with its side affects and therefore is purer, delivering the perfect solution using mixed grains with hops being the main ingredient, being documented as being one of the richest 8 PN sources to mimic oestrogen activity, because its the diminished amounts of oestrogen that leads to menopausal symptoms.
Vitamin Melting tablets (Phase 2).
A formula which has been patented and designed to lift and reinforce Menocool with Vitamin D3 classified as a Cholecalciferol and is vital for calcium absorption together with helping bone density. hair, and healthy nails, when taken with vitamin Biotin and other isoflavones give a hormone balancing effect.
Phase 2 Vitamin Melting Tablets™ are a patented formula created to support MenoCool. Vitamin D3 Cholecalciferol (important for the absorption and function of calcium in promoting healthy skin, hair and bones) are combined with the B vitamin Biotin and carefully selected isoflavones to give a hormone balancing effect. This winning combination works hard in endometrial symptoms for a minority of women.
These tablets are to be taken in combination. Please read the following instructions carefully before taking these tablets.
Menocool Duo contains 1 packet of Menocool PLUS 1 packet of Phase 2 tablets.
Continued
Ayurvedic approach
MenoCool, and MenoDuo are formulas that embraces an Ayurvedic approach to healthy menopause.

Now the holistic, natural approach of ayurveda is available to women through MenoCool, one of a new line of ayurvedic herbals for menopause relief from Body & Mind Shop.

Ayurveda is a holistic system of medicine from India. Its aim is to provide guidance regarding food and lifestyle so that healthy people can stay healthy and those with health challenges can improve their health.

Targeted, synergistic herbal blends address a wide range of factors including memory support, vitality and emotional support. A calming and cooling solution for hot flushes, night sweats and other menstrual symptoms.
There are other natural products that also can be taken to relieve the symptoms of menopause vitamin C and magnesium for example can help with hot flushes. Hot flashes deplete our bodies of the B vitamins, vitamin C, magnesium and potassium so it is helpful to increase our consumption of these nutrients. Therefore menocool can be taken with the following two products high in these essential nutrients 'Fat Burner Energy Release'. and 'Organic Vitality and Slimming tablets'.
Maharishi Ayurveda Approaches to Menopause
According to Maharishi Ayurveda, the menopausal transition will be smooth and free of serious symptoms and complications if the woman's body and mind are in a state of health or "balance." Menopausal health problems represent imbalances in the body which have been "unmasked" by the process of ageing and the added stress of a shift in hormones.

According to Maharishi Ayurveda, mild symptoms of menopause are due to imbalances in the three doshas or governing agents in the body. These milder symptoms can usually be balanced through specific herbals diet and lifestyle modifications.

Imbalance in vata dosha, which governs movement and flow in the body, results in:

anxiety, panic, mood swings, vaginal dryness, loss of skin tone, feeling cold, irregular periods, mild or variable hot flashes, constipation, bloating.

Imbalance in pitta dosha, which governs metabolism in the body, results in:

anger, irritability, feeling hot, hot flashes, night sweats, heavy periods, excessive bleeding, urinary tract infections, skin rashes and acne
Important Instructions when taking Menocool:
Menocool can take only 21-25 days before you find menopause relief from the associated symptoms of hot flushes and night sweats. In many cases this means your body is responding well.

We have recently been advised that it has been preferable to take 3 tablets each day for the first 7 days..

Ideally these would be taken after meals, one in the morning and two in the evening.

Then reduce to two tablets each day. Symptoms should begin to subside in around 21 days.

The ingredients have been dehydrated and so to ensure they are fully rehydrated it is important to drink a glass of water at the same time as you are

taking the tablets.

In the unlikely event that any discomfort occurs due to allergy or sensitivity, please stop taking the tablets.

For those of you looking for additional weight loss, additional libido and extra breast lift: menocool can assist you in these concerns.
.
We Also Recommend
Why Jamu Herbal Stick Ladies feel better toned, super tight and irresistible again. Irresistable results...
'Simplee Wonderful' Vaginal Moisturizing Gel This pure vaginal gel has been procured by the Body &...
Phase 2 melting tablets formula Lower Oestrogen levels and Natural Progesterone levels during...
from
£26.36
RRP £28.36
- Save 7%