Fucus Slimming Patch, Diet Patch, Slimming Patches Reviews, UK
Living in the fast lane, why not try fucus diet patch in your life - a simple easy solution .
Each Seaweed Slim Patch™ contains the active seaweed ingredient - Fucus Vesculosis: renowned for its Iodine content,
- Plus FREE Horny Goat Weed 84 capsules (two week's supply) worth £12.99 to energise sex drive and stamina in both men and women. Hurry While Stocks Last!
Burns excess fat during the day and even while you sleep!.
The Extra strength slimming patch contains Each Seaweed Slim Patch has added Green Tea and Acai Berry with New higher strength for fasting and weight loss.
The New Extra Strength Fucus Slim Patch with Green Tea & Acai Berry
Unfortunately the New Extra Strength Fucus Patch is Currently unavailable.
We don't know when or if this item will be back in
Do diet patches work?
Well according to slimming patches reviews, UK Yes they do
Many users of the New extra strength fucus slimming patch remark they are a cinch to use, and that the beauty of them is that you simply stick them in place and forget about them even in the shower they stay in place.
Again in answer to the question. Do diet patches work? According to Slimming Patches Reviews, UK with Fucus Slimming Patch not always from the first day but most report that these patches have definitely helped curb their appetite with no side effects at all other than sometimes making you thirsty. However, we do advocate the need to drink plenty of water with any Diet Patch..
The craving for sweet and heavy, fillings and high in carbohydrates subsides with the Diet Patch and in fact it's seems quite common to forget to eat in the evening.. Moods can be lifted with a lot more energy saved from breaking down food.
Seaweed Slimming Patches™ gently speed up the metabolism - enabling you to achieve an average weight loss of 2-4lbs per week.


Slim Patch™ is a 100% natural aid for those who stray from dieting.

The slimming patch releases fucus into your body via the skin delivering much nearer100% of the seaweed slimming formula each and every day compared to a tiny percentage when digested through tablets in your food intake. This creates a feeling of fullness and during meal times which encourages a normal appetite to return so that you can say no to nibbles away from your daily meals and even enable you to go without an evening meal that if eaten too late can be stored as fat.


SIMPLY ... Peel - Stick - Lose Weight - Naturally!
& Can be used in conjunction with The 5-2 fasting kit.


Trim for the beach!

SPECIAL OFFER WITH NEW FUCUS PLUS
The new wallet presentation allows you to Buy the new Fucus Patch with the same patches + 2 extra for the same price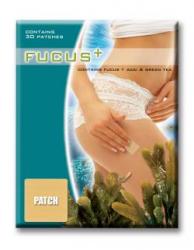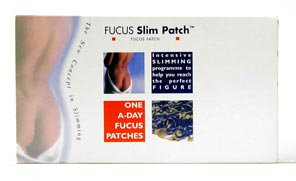 New 1 pack contains 30 patches (one patch a day)

Hopefully the diet patch will assist in the following:
Streamlining your body
Looking ore youthful
Becoming more healthy
Being more confident

IMPORTANT INFORMATION Please Read:
Individuals with sensitive skin and those susceptible to some redness of the skin upon using FUCUS Slim Patch on other areas of the body. Please stop using the patch and the rash should disappear within a few days. For a persistant rash after several days ask your doctor to advise.. It is unlikely that these effects are a result of the fucus contained in the FUCUS Slim Patch. A hypersensitive skin may react to the adhesive on the FUCUS Slim Patch.

Any information provided isnot for the purpose of diagnosis or to analyse any illness and other underlying factors may limit results, such as hormonal drugs and iother medications.

Please also refer to our FAQs.

BUSINESS OPPORTUNITY - BECOME A RESELLER!
Seaweed Slimming Patch™
- click 'here'.to find out more!
Patented transdermal technology makes breakthrough in weight loss. Seaweed Slimming Patches™ gently speed up the Metabolism - average weight loss of 2-4lbs per week.

Features
The natural Iodine in fucus has a mild stimulant to boost the body's metabolic rate and this patch helps the breaking down of fatty tissue.




Each morning simply apply one new Patch on any area of hairless skin. The Fucus Slimming Patch must be worn for a minimum of sixteen hours daily.
Only good eating habits whilst using the Patches are required and for weight maintenance once you have achieved your weight loss goals through the Slimming Patch programme.
The diet patch is approximately 3cm x 3cm and hardly noticable..