Natural Breast Enlargement
Silicon breast implants may sound tempting ... but is there a natural way
from
£26.36
RRP £28.36
- Save 7%
At first, you will feel that your breasts are firmer, and perhaps, rounder. You may feel mild tingling and soreness during this growth phase. During the next phase, your breasts will start to increase in size.
Sexy, round, voluptuous breasts are just a click away!
Natural Breast Enlargement without silicone.
Natural female libido booster
Most important to take Phase 2 with NPU. See products below we also recomend. We are hearing some women where the body was slow to respond reporting improvement.
NPU can help lose weight and excess fat, allowing the bust to lift a little and be in better shape.
Safe And Natural Breast Enlargement Without Silicone.
Eating natural Push up (NPU) feeds the breasts making them fuller and firmer. This increases the size for the underdeveloped breast. NPU is helpful with large fully developed breast that have emptied and sagged. The refilling of the larger breast, like inflating a balloon makes the bust lift, restoring the shape and dramatically improving the look of the cleavage.
A remarkable and relatively recent discovery is that certain foods are rich in phyto-estrogens, so called because they mimic oestrogens produced by the ovaries. (Oestrogen is the hormone responsible for making females grow during puberty and pregnancy).

Ordinary hops used for making beer and lager are a well known safe sources of these phyto-estrogens. In fact, until very recently, many hospitals recommended that mothers should drink beer when breast feeding.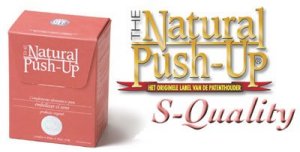 These foods have always been a natural part of our diet, but in recent times the value of these nutrients has been reduced through food processing.

Today beer and lagers are highly processed, so the value of these phyto-estrogens are significantly reduced. Also hops grown for beer are selected for their bitterness and not their phyto-estrogens. A convenient way to enjoy a natural source of phyto-estrogens and the full nutritional benefits of hops is with breast enlargement Natural Push Up (NPU). Dehydrated fibres of hops and mixed grains in tablet form simply because hops have a naturally bitter taste.

Hops Flower: This excellent herb that facilitates breast growth. Hops Flower is rich in flavonoids and promotes optimal health.
No additives, no preservatives - Natural Push Up contains only safe natural ingredients.
Only DVE approved hops are used in NPU. This confirms that they are varieties of hops selected as a rich natural source of phyto-estrogens.

Breast Enlargement Natural Push Up is a convenient way to push up your healthy eating plan by adding fibre and phyto-estrogens to your daily diet.

We aim to be able to help women in a natural safe, gentle way, giving a fuller and firmer bust as the result of a health cure instead of implants. The NPU programme can be used (and can carry on helping you to improve your bust) for an average of 8 months, for maximum effects. NEW 'S' NPU helps you to feel more full and firmer earlier, so that you can measure a noticeable difference in the first few months. This means your investment is totally justified in a shorter time. The S-Quality offers you fuller, firmer, more beautiful and bigger breasts, up to 2 cup sizes.

The programme is based on using our product for an average of 1-5 months, depending on age and hormone levels, so that in younger women only a 2 month programme may be required to achieve the desired results.
Without the support of NPU nutrition the bust will decline gadually with age as there own oestrogen production reduces. Taking one or two tablets a day will help to maintian the bust. If it is evident that this is not enough then a short course of 3- 5 tablets a day will help to restore the bust and then continue with 1 or 2 a day.
There is no evidence of adverse side effects that any of our customers have reported since we began with NPU in 1998. Of course if there is a food intolerance or allergy that would produce side effects and be evident immediately but it is very rare with hops. Hops can calm the central nervous system. They certainly help people cope with anxiety and to sleep but there would be concern if anyone is prescribed any sedative or is under medical supervision they should show the ingredients to their Doctor as is advised with any change to the diet.
IMPORTANT:

if you are in or are through the menopause, the maximum recommended dose is no more than 3 NPU tablets each to be taken in combination with two Phase 2 vitamin tablets each day. Phase 2 are melting tablets. They are not to be swallowed but are not to be placed under the tongue until fully swallowed.
Please note: stopping early means that your investment is totally wasted. For your convenience with S QUALITY, is a totally organic product, and you only need to take 5 tablets a day.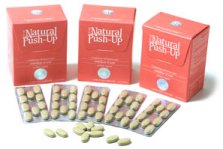 S QUALITY is offered in a package containing 16 bubbles with 10 tablets in each bubble, intended as a 32-day programme. We probably hardly need remind you that only your bustline will increase in size, not the rest of your body! In fact you will even appear thinner, since your bust will become more pronounced.

How long will it take to work for you? The sooner you order, the quicker you will prove exactly what NPU can do for you!

Everybody is different, but you should expect to notice something happening before you finish the first packet. Your bust will then develop to its maximum potential over the next few months. Results are long lasting, especially if you continue with just one or two tablets each day.

Breast enhancement and even breast enlargement in many cases should be possible without surgical breast augmentation by using the Natural Push-Up tablets. A fuller and firmer bust as the result of a health cure instead of implants. Your body deserves the chance of breast augmentation in a natural way with our aesthetic health product.

Body & Mind Shop is an official UK distributor of Natural Push-Up!
The purpose of the following information is to provide you more detailed information about breast enlargement Natural Push Up.
Before you try Natural Push Up, first check here that it is suitable for you.
Breast enlargement Natural Push Up is simply a food supplement and as with any foods some people have individual reasons why they should avoid them. These include:
Pregnancy & breast feeding: We believe it is important to take extra care during pregnancy. Always ask for your Doctor's advice before making any change to your diet. Also, during this time your body is naturally changing shape.
Food allergies: Do not eat breast enlargement Natural Push Up if you are allergic or sensitive to any of the ingredients (Hops, Wheat, Barley, Rye, Malt, Black Oats, and Maize). A basic guide is that if you can enjoy beer or lager and never have any ill effect after eating bread or breakfast cereal, it is unlikely you will have any problem with breast enlargement Natural Push Up.
Intestine or bowel disorders: Breast enlargement Natural Push Up is an excellent way to add fibre to your diet. Doctor's normally recommend this. However, if you suffer from any disorder that is aggravated by fibre, gluten or any other component of the ingredients you must not take breast enlargement Natural Push Up unless your Doctor agrees.
Breast Implants may sound tempting
... but is there a natural way?
NEW NATURAL PUSH UP! WHAT THE PRESS SAYS...
"Herbal pills made her breasts grow bigger!"
DAILY MIRROR
"Louise is thrilled with her new bust"
DAILY MAIL
"Bust too small, now there is a herbal remedy."
DAILY MIRROR
"NPU does exactly what it says on the tin."
COSMOPOLITAN MAGAZINE
" New Natural Push Up has changed my life."
I feel more confident and look more seductive.
Thank you it really has worked so well for me"
Ingrid
As seen on GMTV and on BBC's 'Face Value'
London Fashion Week confirmed that a full and firm cleavage is the vogue but, according to a recent survey, fewer women than ever are prepared to risk breast implants.
Confusing reports about the safety of silicone plus the alarming reported advice that every woman with an implant made with soya should have it removed, have caused considerable concern.

More recently, the banning of hydrogel implants has made many women think twice about breast implants. The major concern is that the problem with any surgical procedure, apart from the cost, is the fact that any error made during the procedure is likely to be irreversible.
The Lack of Sunlight & Phase 2 Melting Tablets
Phase 2 melting (90) tablets herbal formula used with NPU to enhance results
containing Vitamins for healthier, skin, hair, nails and bones.
The benefits of taking Phase 2 Melting tablets
How many of you would like to stop hot flushes
and also benefit your health and the look of your body?
Natural Push Up is not only to boost the bust, taken together with Phase 2 this combines
phyto-estrogen rich vegetable hops with Phase 2's essential vitamins to relieve all the
symptoms of the menopause. At last, relief form the misery of hot flushes and night
sweats without risking HRT. Now you can have the natural nutrition you need
to push up your health and beauty.
Every woman and man should take Phase 2 not just to improve their skin and hair but most importantly right now to boost their immunity, especially due to the pandemic. Lack of sunlight here in the UK makes most of us very deficient in these important vitamins. Those of us with sallow or darker skin types suffer more than those with fair skin types and some think this is why the BAME community have worse ill effects from Covid than those with pale skins. Whether or not this proves to be true I take one Phase 2 in the morning and one in the evening (20mg per day) this is the maximum recommended dose. One a day is sufficient for very fair skin types, provided the see some sun and don't wear too much sun block.
Phase 2 ( has become a high demand product since covid 19 and to those who understand the importance of Vitamin D3 combined with Biotin for boosting immunity (this is an interesting read https://www.who.int/elena/titles/vitamind_pneumonia_children/en/. )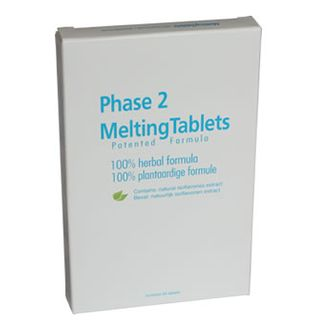 100% herbal formula
100% plantaardige formula
Phase 2 is a vitamin supplement containing additional isoflavones to support Menocool, Natural Push Up and for healthier, skin, hair, nails and bones.
Composition:
Natural Isoflavones extract 33mg, Vitamn D3 5 microgram (100% RDA), Biotin 25 microgram,
Ingredients
Mannitol / starch complex. Anticoagulants (Colloidal Silican Dioxide, Magnesium Stearate), Acidifier (Citric Acid). Chole calciferol, Biotin.
Application and Dosage
For the first 14 days melt a total of 2 Phase 2 tablets per day under the tongue. Thereafter, melt one tablet a day. Do not taken more than 2 tablets each day.
How are they taken?
Simply place under the tongue and allow as much to absorb as possible wihtout swallowing.
Can these tablets be taken with any other medication?
The vitamins should have no adverse side effect. If any doubt check the ingredients with your doctor.
When should you (not) take Phase 2?
It is not recommended to take Phase 2 when taking any other tablets containing Vitamin D or Biotin.

Always check with your doctor about any tablet if you are

On dialysis, take medications for seizures, have been on long term course of antibiotics, are pregnant or may become pregnant, or are breast feeding, notice unusual menstrual bleeding.

If you are prescribed any other medications always check with your doctor before taking this or any new tablet or change to diet to avoid adverse interaction
We Also Recommend
The beauty of your breasts is dependent upon the elasticity of the skin. With Breast Serum® from Natural Push...
Phase 2 melting tablets formula 100% herbal formula 100% plantaardigo formula Phase 2 ...